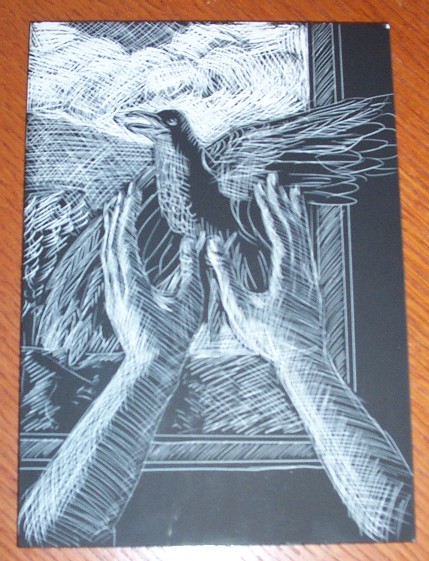 This is my first experiment with scratchboard. My sister bought me a clayboard for Christmas, and it looked expensive, so I was too intimidated to start. I got some smaller ones to 'practice' before I did the larger one.
My inspiration is Jennifer Hewitson who illustrates a calendar I'm very fond of. I don't know how she gets such clean lines. Maybe she works very small. I think one of the things I'm most impressed by her artwork is that the images are always enigmatic and powerful; you get the impression that they're illustrations for a very interesting story.
I'm tempted to just get a pack of small scratchboards and copy her work, image by image, kind of like art students in Europe do in the museums. Sometimes copying a master is a very good way to learn. If I do, I won't post any of them here.
This image is 5″ x 7″, and it fit on the scanner, but something I learned from this is that sometimes scanned images don't show as well as photographed images when you have to size them down.