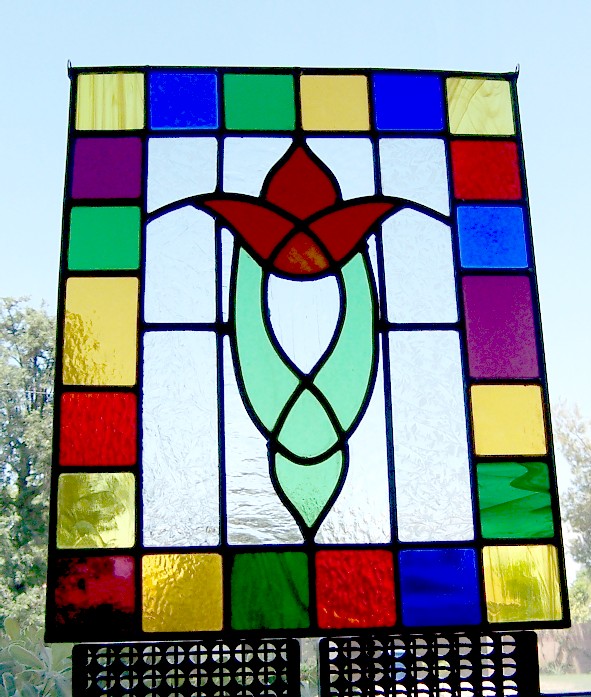 I took a stained glass class at a local shop, and this is what I created.  I'd never done stained glass before, though always figured I'd try my hand at it some day.  I have a picture window that really cries out for a large stained glass panel. Of course I have to make it myself, so I enrolled in a class to teach me how.
I have to say, it's not what I expected.  I knew it would take some precision, but I didn't realize it would take that much precision.  I knew it would be dangerous, but I didn't expect to cut myself that badly or expose myself to that much lead.  (And stained glass is very pretty, but it can also slip easily into tawdry or dated if you're not careful.)  It requires a lot of being precise, and a lot of careful attention to detail, and not a lot of creative expression: it's more like woodworking than painting.  So I don't know how much of this I'm going to do.
The main trouble with working in stained glass, besides the health risks, is that it's terribly expensive.  There are a gazillion tools that you need, and a lot more that make things much easier.  I got some of the tools from Jane, but there were still other supplies that I had to buy. If I'm going to do more, there are even more tools that I'm lacking.  I also learned that the copper foil method (I do have copper foil) is more difficult (I don't have a grinder to make things perfect if I screw up) and more expensive (uses a lot more solder.)  The leaded came method is more forgiving, but you have to work with lead, you need tools I don't have, and putting the putty in afterwards is terribly messy.  The design I want for my picture window is probably going to take both.
I guess the moral of this story is that if you're ever at an art show, and you see a stained glass panel that you like, buy it. It's probably underpriced.