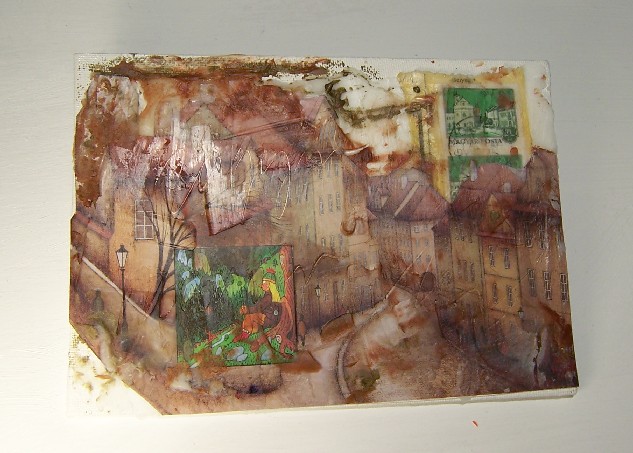 Every time I see a new artistic technique or medium I have the urge to try it.  Such it is with encaustic, using colored wax.  I thought this would be a fun project to do with my children, becasue for the pigment we used crayons, and who doesn't like crayons? 
Since we were experimenting, the way we decided to keep the wax hot was by putting it in a metal dish over some tealights.  For those of you playing the home game: don't do this.  Not only does it not melt the wax or keep it liquid enough, but the metal dish gets burning hot.  Not only that, but we accidentally set the table on fire. (Good thing I had a spray bottle!) 
I've seen other collage artists advise using a quilting iron.  That sounds like an excellent tool, if I had one.  I do however, have a heat gun, and we enjoyed not just melting the wax, but watching it blow around with the puff of air from the gun.  Because the gun was the only thing that kept the wax melted, this was not a good three-person project.
The thing I love about encaustic with collage is the translucency of the glaze.  Images under the glaze look misty and faded.  You can also get fascinating textures. This was not a resounding success, but it was a nice start.  Next time I might try using my own images rather than cutouts of others'. 
I don't think this will be my last experiment with encaustic, though it will be a while before I can make anything new, because my studio is a mess.