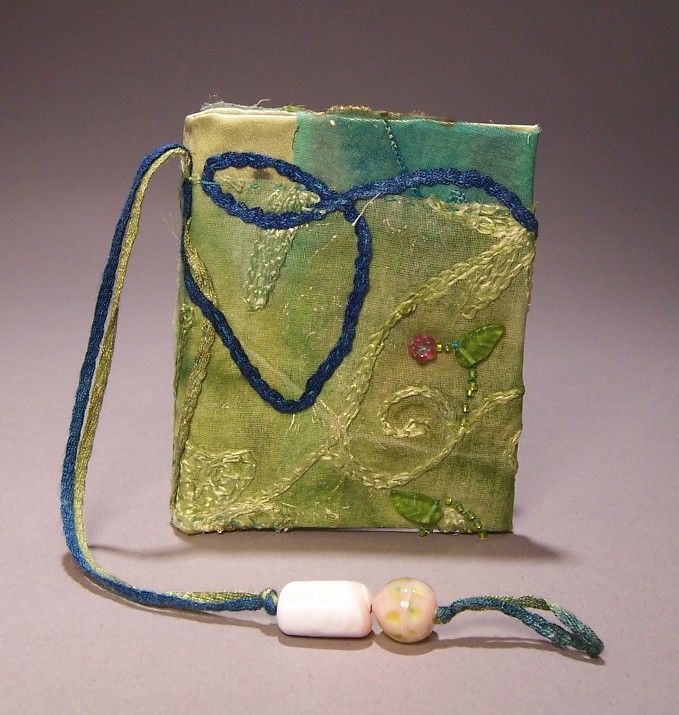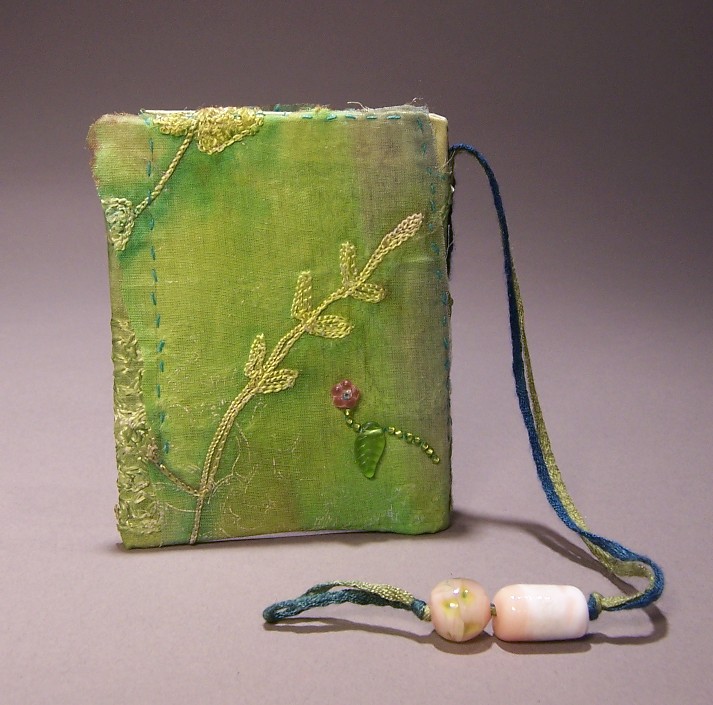 I wanted to do a different cover for this one, one that was almost entirely cloth.  The trouble I always have is how to adhere it.  Gluing it tends to eliminate the soft texture, whereas sewing it means loose edges and threads.  I comprimised and used fusible seam tape left over from the curtains I got at Ikea.  I used over a yard of the tape before I was done fusing all the layers of green cloth to each other, and even then, there were loose edges. 
I had hoped to superimpose a texture over top using gold interference acrylic and a rubber stamp, but the directions in the magazines that indicate this is possible were probably writing for people whose houses have higher humidity.  Not only did the acrylic barely imprint at all on the cloth, but it nearly ruined my stamp. 
To fix the loose edges, I sewed the turquoise line of stitching wherever I thought it would be a problem.  I borrowed the beads from my daughter, who had the exact shade of green I wanted.  I also sewed on the woven cord/bookmark.  By now I'd already decided who I was making this for.  I looked through the beads I'd made, and found these pink ones, which, like the title and hue of the cloth, made me think of her writing.  I used pink flowers at the ends of the green vines to coordinate it.
I had some issues with this cover as well.  I had the problem with the end papers in that I tried to use just half a sheet, covering only the inside of the cover and not the seam, but it looked terrible.  Then I scrounged around for some paper that would match, and while I couldn't find anything as nice as the handmade pale green paper with plant fibers in it, the metallic hunter green paper with the fabric-feel worked acceptably.  After I'd attached it, unfortunately, it became apparent that the cover boards weren't perfectly even.  Sometimes the signature block itself ends up not completely square, especially when I rush to finish.
The other issue with the cover is an issue that I've had with all my cloth covers: When the edge of the cloth is near the edge of the board, it looks messy, as though the hem has come loose.  Sometimes I can fix this with my heat gun, but in this case the fabric wasn't synthetic, so it just scorched instead of melting.  Part of the problem is that cloth doesn't glue as well as paper does, especially not slick satiny cloth.  It's still sturdy, and still functional, but it looks more rough-hewn than I would like.
Posted in books | 3 Comments