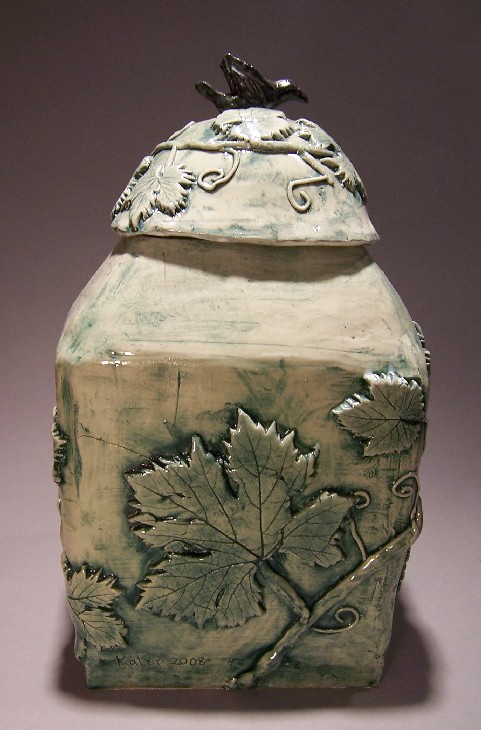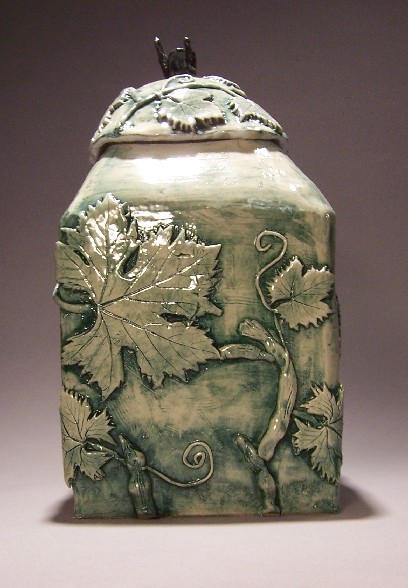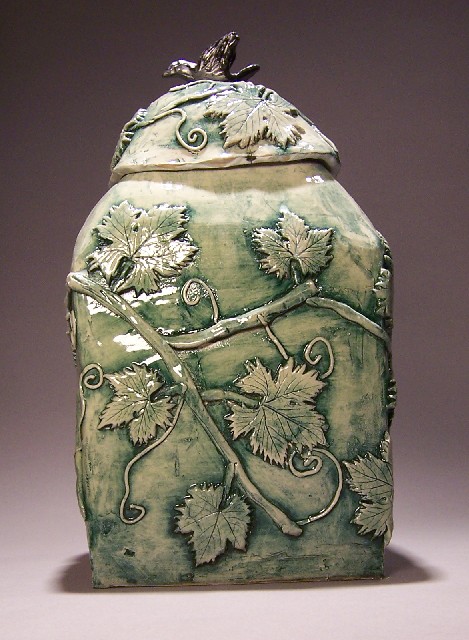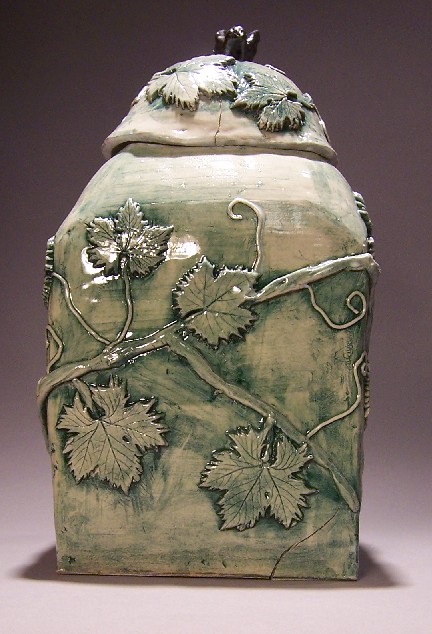 I had a cookie jar from CostCo, that came with biscotti in it, but while I was gone last summer the kids broke it. I decided to make a replacement for it. I had the shape of what I wanted in my head, based off of a talavera jar I bought in Mexico.  I didn't quite manage to make it exactly right, but at least the lid fit.
I hand built this with coils of B-mix, with a slab for the base.  It took a long time to make it, scraping and smoothing, etc.  The lid was a pinch pot that I added a coil to on the inside for support. The little crow is sculpted.
For the grape-leaf sprigging, I used some leaves from my garden (dating from before the leafhopper and skeletonizer incidents)  I rolled out a thin slab of clay and then laid leaves on top, then rolled on top of the leaves to embed the veins into the clay.  Then I cut around the outside, trying to emulate the serrated edge of the grape leaves.  After that, I carefully peeled the leaves off and used the best ones to make sprig molds out of plaster.  The plaster took too long to cure, so I wasn't able to use them during that pottery session, but by this summer I was ready.  The vines are rolled clay scored and dinged with tools, and the tendrils are from a garlic press.
After the first firing, the jar looked just fine.  I spread green stain over it, then wiped most of it off. The crow got painted with black stain.  After that I put white glaze inside, and sprayed it with clear glaze outside.  I fired the lid and body seperately, because I've lost too many covered jars when the lid fused to the base, and after all the time I'd spent making this, I didn't want it to get ruined. 
Unfortunately, it kind of got ruined anyway.  Cracks in both the base and lid appeared during the glaze firing; I'm not sure why.  I don't know how long this jar is going to withstand the attentions of children, as I intend to fill it with cookies very soon.  When it finally breaks (and I'm sure it will) I'll save the pieces and use them in some kind of tile mosaic.  I've got a whole box of broken crockery I'm saving just for that purpose.