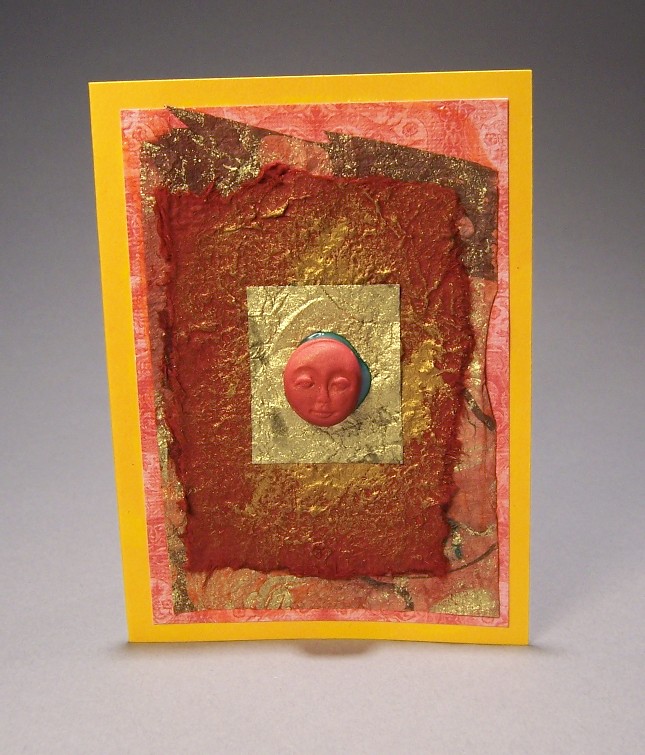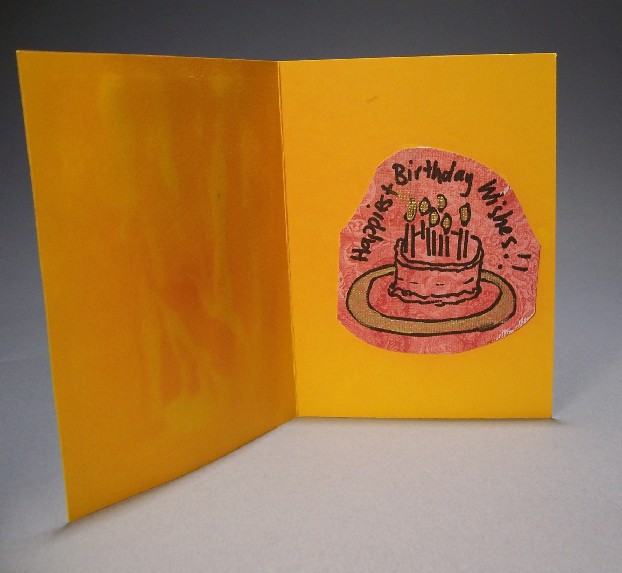 Jane's birthday was the impetus behind all this card-making.  I wanted to make a birthday card for her that was really special.  This particular card was the hardest to make, as it didn't seem to turn out the way I wanted it to.
After I chose the card color and the background scrapbook paper, I had established the theme of red and gold.  Next I took a piece of the background paper and drew a cake and candles on it.  I've seen hand-made drawings used in collage to good effect before, but not this time. I just couldn't make it work. I tried adding gold paint to it, but even that didn't help. The problem, I decided, was that the syncronicity between the papers was too obvious. No matter what I put in between them, the fact that I'd used the same paper twice stood out.  I tried using gold paper behind it, but even that didn't help, so I ditched it (and eventually used it in the middle.)
My next try was to draw the same birthday cake on a piece of brass with a sharpie.  It looked terrible. I ditched it.
So I cut a piece of the orange art paper and pasted it, then picked up another piece of the red handmade paper and tried to decide how I could make it work. I'd had a little tube of rub-n-buff that I bought a year ago and have never used.  Part of this whole card-making exercise was about experimenting with new materials, so I opened it up. It smells delightfully toxic, like turpentine or spray paint. It also made a rather organic-looking smear of gold on the handmade paper.
Once the gold was on there, the gold paper worked beautifully, so I cut it out.  I was going to try to paint one of my fimo faces with bronze or iron paint, but when I saw a red one in my scraps drawer, I decided to make less work and just use that.  The acrylic gel (or the brush) had some blue in it, probably from the blue linoblock ink on the haloed blue reader card.  I'm not fond of the blue underneath the face, but it doesn't look terrible.