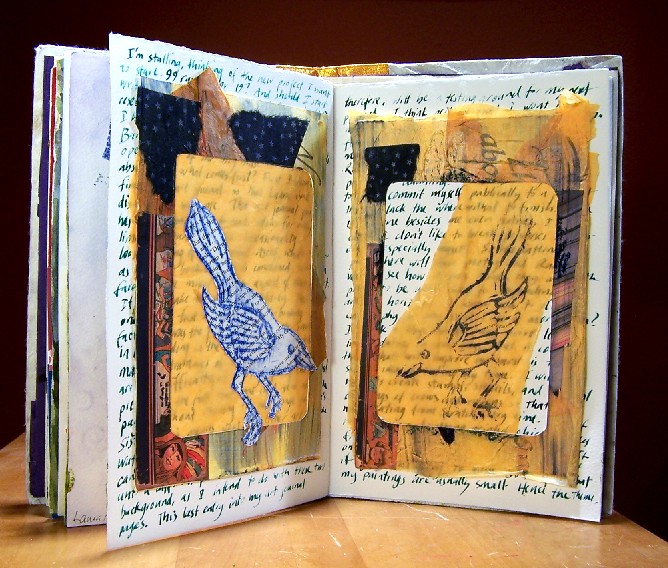 This is the last set of pages of my art journal.
I was thinking about whether to work on my last entry in my art journal, or whether to start the collage project, and I ended up doing both. 
First I started writing out in ink ideas about what I wanted to try. This was both a way of working through the thought process, and creating a background for the artwork.  After that, I took two pieces of watercolor paper and started my collages. 
The two collages proved overwhelming for the pages, so after I trimmed the card shape out of them, I placed the frames on the pages to see how they looked.  I'd already done the crayon rubbing of the songbird (from the linoblock I cut) and I did a print on tissue paper thinking I'd use it for the other collage.  I like the way they mirror each other, and I like the way that the background text is just barely visible through the tissue paper.
Lesson learned from the art journal project: Art journals are very difficult to photograph.  Also, you can't sew on any of the pages without sacrificing the watercolor paper background, which means you're either not sewing, or you're just gluing finished pieces onto a support.  The journal format also limits materials; you can't choose anything too thick (poppy seed heads or doll faces) or too sticky (acrylic).  I've found this with altered books too.  The book form is really neither 3D or 2D, and has the worst of both worlds.  Of course, with altered books, you get the joy of recycling, so I may deal with the drawbacks and continue my other altered book projects.  Or maybe not.