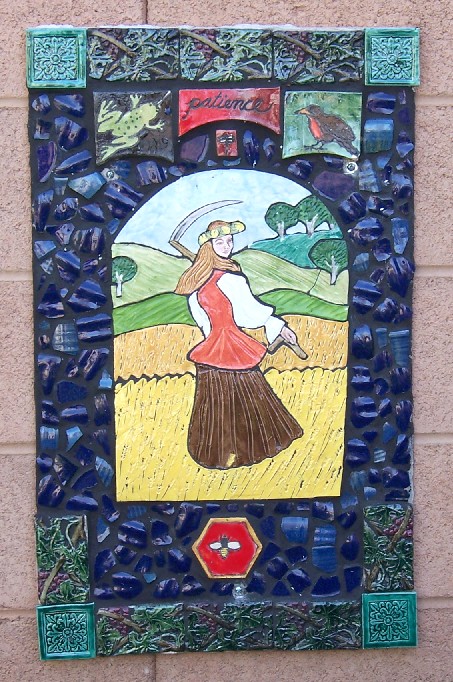 This is one of the wall murals I made.  I'm very happy with how they turned out. My only concern is that, because they are not fired vitreous, they might not withstand freezing.  Fortunately, we get very little freezing here.
I made the middle mural about four years ago, using a renaissance painting as a reference.  I don't know who did the original painting, I gather it is quite well known, but I can't find the source.  I made the corner blocks by using a rubber stamp and a slab of clay I pounded out.  I pound the slabs rather than roll them (don't have a slab roller at home) because I think it minimizes their warpage.
The grape-leaf design around the edge is from a mold I made based on a carving on a  cathedral in England. The bee, the robin, the frog, and the dragonfly are all made using wax that I dyed with black cobalt stain.  There's a material they use specifically for this technique, but I didn't have any.  All of these tiles are glazed with low-fire (cone 06) glazes.
The filler pieces are from a commerically purchased, slip cast pitcher I bought at Ross. It held our iced tea for many years, and when it broke, I saved the scraps to repurpose them.
Finished size approximately 18″ by 30″