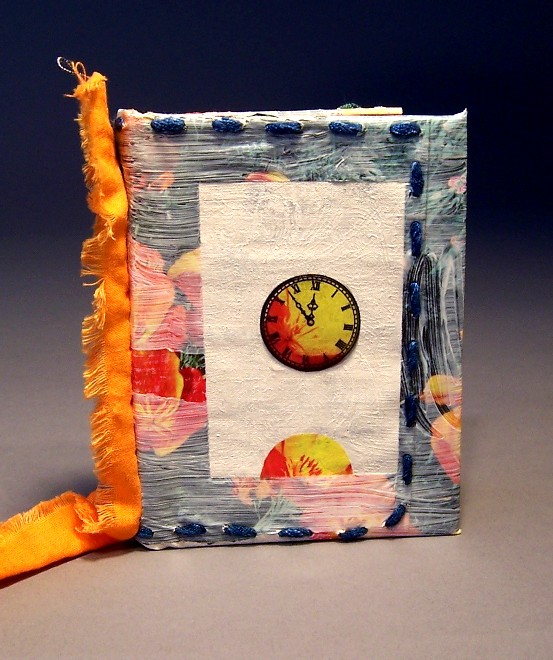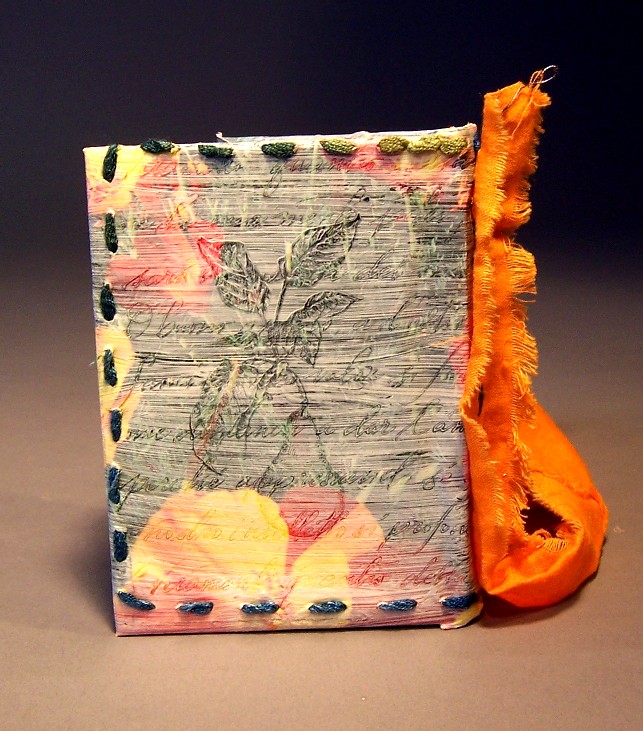 This would have, should have been my favorite book cover.  I started by stamping gesso designs onto muslin, and then using a wash of buff paint to bring out the details.  Since the background was so plain, I went to my old files and found a photograph I had taken last year of my yard of California poppies.  I printed out one of the better photographs on lasertransfer paper, cut a window out of it, and transferred the photo to the muslin.
Here's what I've discovered about laser transfer paper. It does the laser part fine, but the transfer doesn't stick.  In the future, I'll try to use a layer of acrylic medium under it or something. Not only does the photograph not stick very well to the muslin, but the acryilic paint on top doesn't stick very well either, and is peeling off like an unprimed wall.  Very frustrating.
For the detail on the front, I used an epoxy sticker of a clock face and stuck it down to a circle I'd cut out of the remaining laser transfer paper. This one does stick, since I put glue underneath it.
Before I glued the cover to the book blank, I sewed the braided cord around the perimeter for depth. I also sewed on a strip of orange cloth to use as a bookmark. I had been planning on using a red glass bead as part of the design, but nixed it.
On the back cover, when I was doing a wash of translucent buff paint, I used stamps in the wet paint to create further depth and detail.
The most disappointing part of this project was the laser transfer paper.  I've heard other people rave about using it in mixed media projects, and perhaps for a purely ornamental piece it is fine, but my books are meant to be functional.  In time, with even moderate use, the paint and photo will flake off, leaving only a beige muslin cover with some braided cord for detail.