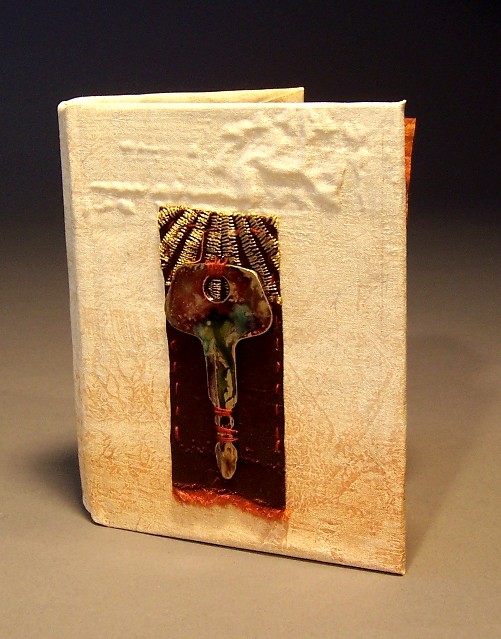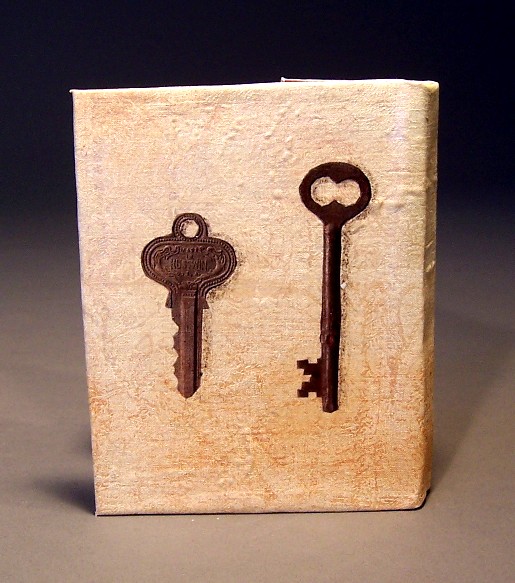 When I made these three books, I meant to have  a theme of off-white covers. This one started as gesso brushed over off white muslin, with stamps impressed into it for texture. You can see the faint image of a bird in the lower right hand corner of the cover. After the gesso dried, I used interference paints to give the surface some depth. Interference paints don't show up well in photographs.  They basically make the book have a sheen of color when viewed from a certain angle.
For the cover, I first started by cutting some scraps of Chinese brocade and ironing them under so that I could sew some down to the cover without the edges fraying. I knew I wanted a tactile focal point, so I took an old car key and sanded it until it shone. Then I painted it with alcohol based inks, which stick to non-porous surfaces.  Once I'd sewn the brocade down, I sewed the key on top of it.
On the back, I placed a collection of antique keys on the bed of my scanner and scanned it. In some ways, this is even better than a photograph, as long as the pieces are flat.  I printed it on laser transfer paper, then cut the shapes out wiht a razor blade.  I debated cutting out the shadows, but in the end decided to draw them back in with colored pencil.  This time, I used acrylic medium both under and on top of the images, so hopefully they will stick.
Not shown in this photo: on one of the inside pages is yet another laser transfer of a key.  I'm wondering if the adheseive sheets that I got (which I assumed went with the temporary tattoos I bought at the same time) were really supposed to go with the laser transfer sheets as well?