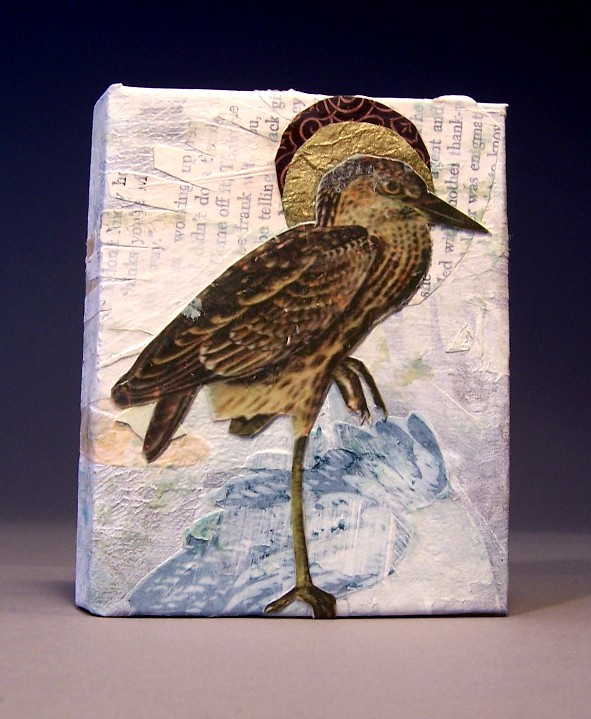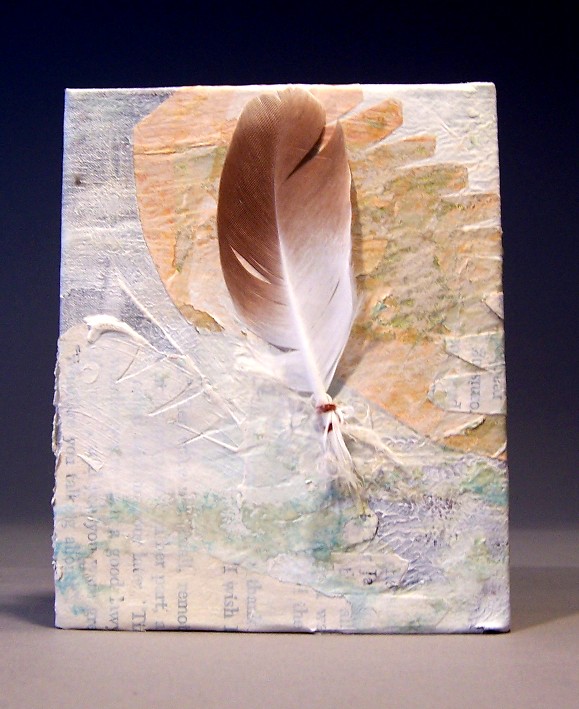 This was the third cover of the "off white" themed series.  For some reason, this one didn't turn out as the rest, to fix it, I cut out shapes of wings from different papers and adhered them randomly to the surface using a semi-translucent mixture of acrylic medium and Titan Buff paint.  After it dried, I sanded it slightly.  On the back, you can see that the gold of the joss paper has come through.I read in a magazine or multi-media book that you can do photo transfers by printing on photo paper with an inkjet printer, then pressing the fresh print face down on a thin layer of gel medium.  It looked really cool in the book, so I tried it, first scanning an image from an audobon print, then preparing the surface of the cover with a thin layer of translucent medium.
It did not work. At all.  None of the ink came off onto the paper, and when I lifted the print up, some of the papers came up as well.  Best it did was leave a faint greenish yellow stain on the lower edge of the paper.  Maybe it would work if I were to do it on a smooth, flat sheet of paper, but that's extremely limiting.
Once I'd finished swearing and complaining, I let the photo dry, and then decided I could salvage some of it. I cut out both the birds on the print, and chose one of them which looked like it would fit on the finished cover.  I cut out some circles of other paper, to make a halo and keep the bird from feeling too framed.  You can still feel and see the rough texture from the acrylic paint that stuck to the surface of the photo.
In keeping with the bird theme, I sewed the feather on the back. I think it's a dove feather, from an acquaintance who keeps doves as pets.
Despite the botched photo-transfer technique, I feel that this book cover works.  My only complaint is that the paper isn't as sturdy and flexible as cloth, so on the edges of the cover, it's torn and will probably fray.  I have a person in mind to give this book to, and I hope she doesn't mind that it will quickly become even more worn as it's used.