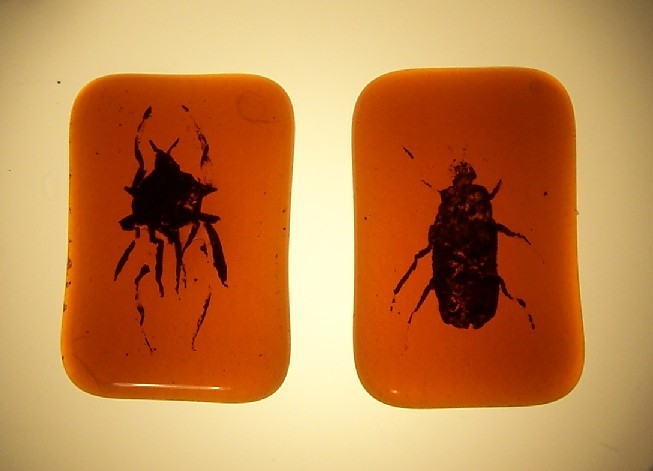 I took a fused glass class this spring. I hadn't been terribly inspired by anything I'd seen in fused glass, but I figured that it was one of the few types of glassworking I hadn't tried yet, so I ought to give it a go.
My first couple of pieces are really ugly. So ugly that I might not even show pictures of them here. One is a circle with a wave on it, and the other is a four-piece windchime/suncatcher, sprinkled with some broken stringers I made. I don't like them at all. They have the same craft-kit feel that I see in a lot of fused glass, and they seem kind of kitchy.
I wanted to make something that felt like art. I also wanted to make something that wouldn't involve a second trip to the glass store, because my first supply run had set me back a hundred bucks–and I bought stuff from the scrap rack! I had a lot of this amber colored glass, and I had some mica pigments, so I thought about what insects look like when they're trapped in amber, and I came up with the idea to make these beetles. Next post, I'll talk about how I did it.