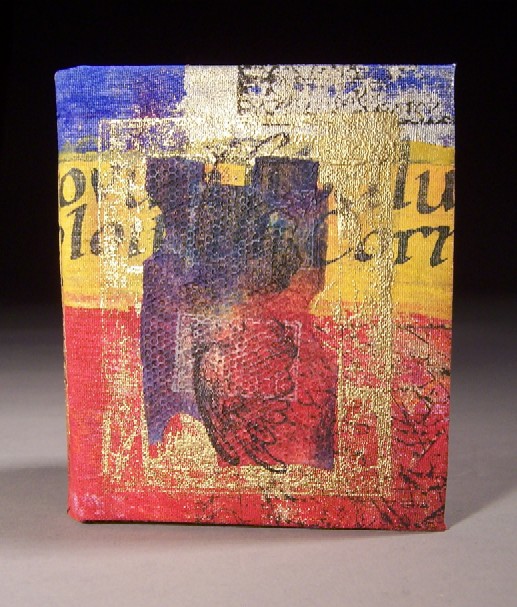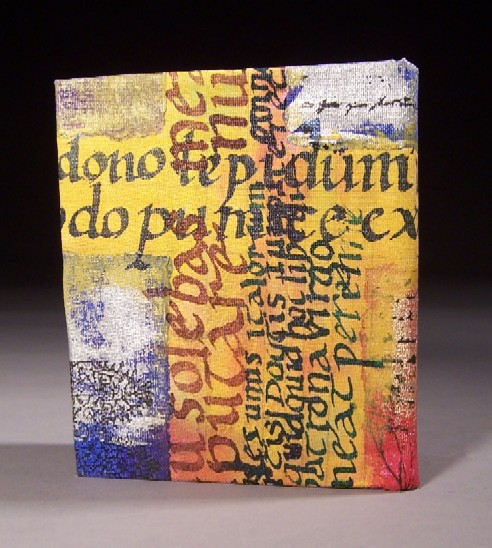 This was another one of the rainbow series books, so-called because of the rainbow look of the tie-dyed/marble technique fabric I used for the base.  After the layers of masking tape and washes, I had blocks of color, which I added stamps to.  This one has silver rub-and-buff as accents.
I wanted to try some calligraphy techniques, but I don't like the way that text can dominate a piece of art, for example when people do collage art that has words like "believe" or "family" or "good times". It seems kitschy and scrapbook-y to me.  So I asked my friend, Latin teacher and fellow Clarionite Betsy Hasman, for some texts I could use. She gave me this, one of her favorites. I think it's Cicero.  I drew pencil lines, then chose a font and began to copy from the printout. I don't understand it at all, and since it's layered on top of itself, you probably can't either.
I wanted a focal point on the cover, so I used a framing stamp and some embossing powder. The stamp, however, has too fine of a detail to show well with the embossing powder, and more to the point, I didn't have anything to go inside. So I cut out a piece of dyed paper towel, then split it and glued it to the center.  I've used layers of dyed paper towels to good effect before.
This time, it didn't seem to do the trick.  More detail, I figured, more stamps. I used the black wings, and then added a smaller silver stamp under it.  I don't know if I made it better, but I figured I'd done enough. The calligraphy is pretty cool, after all.