I bought this pot specifically to re-pot a gardenia plant I have in my front yard.  I thought about using tile mosaics, or glass piece mosaic, but my mosaic-tile production wasn't coming along fast enough so I decided to glaze it instead.
I'm always startled by how patchy the glazes come out.  Even when I take extra care to make three even coats, it never seems to come out the way I think it ought to.  If I could go back in time, I might consider using underglazes and a clear overglaze instead.
I wanted some words around the top, but I don't like the way that English words can dominate a piece of artwork, so I looked on the internet for something in Latin. I found this phrase: saepe creat molles aspera spina rosas.  The translation was something like "Sometimes flowers come from thorns".  I tried to calculate how much space each letter would take, and divide the rim evenly, but I re-figured it so many times that by the time I started drawing the letter outlines, I confused myself with the surfiet of pencil marks.  The first word, "saepe" took up more than its alloted space, and in an effort to conserve space, I made the As smaller in the subsequent letters. Still, I didn't have enough space for the last word, so instead, I drew a picture of a rose.
I drew the prickly pear using black wax, using some photos I took last April as a reference.  I debated whether or not to add shadow and highlights, and once I remembered what a nuisance low-fire glazes are, I decided to simplify it.  I did use three different colors for the flowers.  Here's one of the photos I used for reference.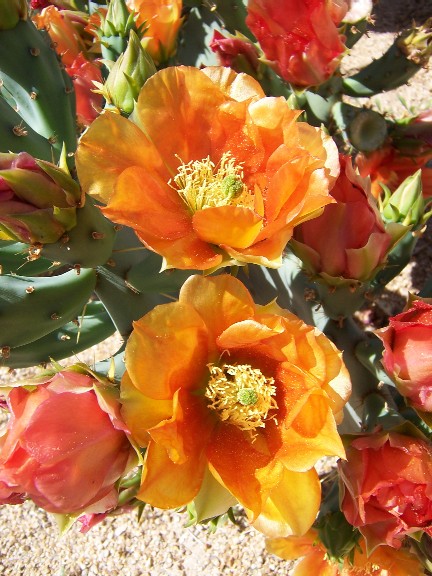 I think many people would admit that the prickly pear flower is stunning. The fruit is equally pretty. I don't know if I got many photos of the fruit this year, but we should have more in June.
For the spines, I used the "French Impressions" which is something like a slip, I think.  I only had white, black, brown, and red. If I had light green, that would have been the best color for the thorns.