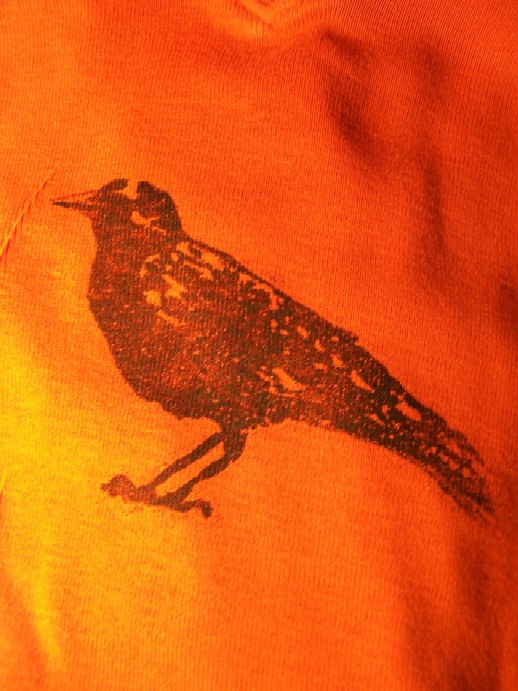 I often wear tee shirts, and almost all of my shirts have no logo or design on them at all.  Usually, that's the way I like it.  However, I've been toying with the idea of having a design on my shirts.  A crow, naturally, since I like them so much.
I bought a silkscreening kit at Michael's that came with a stencil and some fabric ink.  I didn't want anything simple enough to be put on with a stencil, so I also bought the drawing and resist kit.  I thought about doing the photo emulsion kit, but this was cheaper. Besides, I wanted to do my own design, and I figured that drawing it directly on the silk would eliminate at least one step.
For those of you trying this at home, let me assure you that the drawing medium is not the easiest to work with.  It doesn't want to get nearly as fine as I wanted it.  You have to brush it on, so fine lines are out of the question.  Still, I was able to paint this little crow onto the silk.  After you paint it on and let it dry, you squeegee the resist over the surface. I didn't want to use an entire bottle of resist, so I blocked out some of the screen with masking tape.
After the resist dries, you run it under water until the drawing ink washes out.  At this point, it's pretty much ready to go.  By applying a single pass with the ink, I was able to make pretty good prints onto my tee shirts.  I did a run of eight shirts, and then the ink started to get too viscous.
One problem I had was that the line at the top of the beak got covered over with resist, and therefore didn't show up when I did the print.  Also, the later prints looked faded near the tail.  I used a paintbrush to touch up these areas. They have a handmade look, which I do not consider a defect here.
The directions say that you must heat set the image for 3-5 minutes on each side with an iron. I did that, but found that the cloth I used over it got scorched.  We'll see how well it washes.