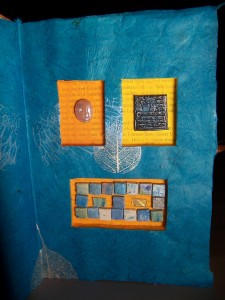 This is an altered book that I started a while ago. I'd been using different pages for different techniques, but I'd left this page, with the three cut-out alcoves alone.
I wanted to work with the juxtaposition of teal with that apricot color. I love these two colors together. First I took the blue art paper and used my silk screen of the wings to make wings with interference paint. You can't see it very well, which is kind of nice, because if it weren't subtle it might overwhelm it. Then I painted the interior of the little alcoves in the bright yellows and oranges.
After that, I glued the paper on and carefully cut out the squares. It's not hard, as I can feel the crisp edge of the paper block. Then I had to sift through my stuff and find things that worked. I had the polymer clay face with interference paint on it, and I added mica pigments to the tiles and the polymer clay tablet-tile.
As with many things I do, it wasn't exactly what I wanted, but it came out okay. I learned some things. I especially learned that it's a pain in the butt to photograph altered books. They just don't like to lay open.