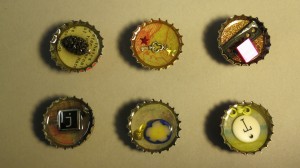 These are more from the same set of bottlecaps I made in Februrary.
I think I bought the letter charm and the letter brad when the Paper Studio close its doors to the public (they are still mail order and open for classes) It was a sad day, but 40% off made it less sad. the typed paper behind the alder cone is a card from a card catalog, which I use to store glazes, and little ephemera like the polymer clay millefleur slice in the bottom center bottlecap.
I bought the key charm in the top middle from a vendor at a convention.  I think I had bottlecaps in mind when I bought it.