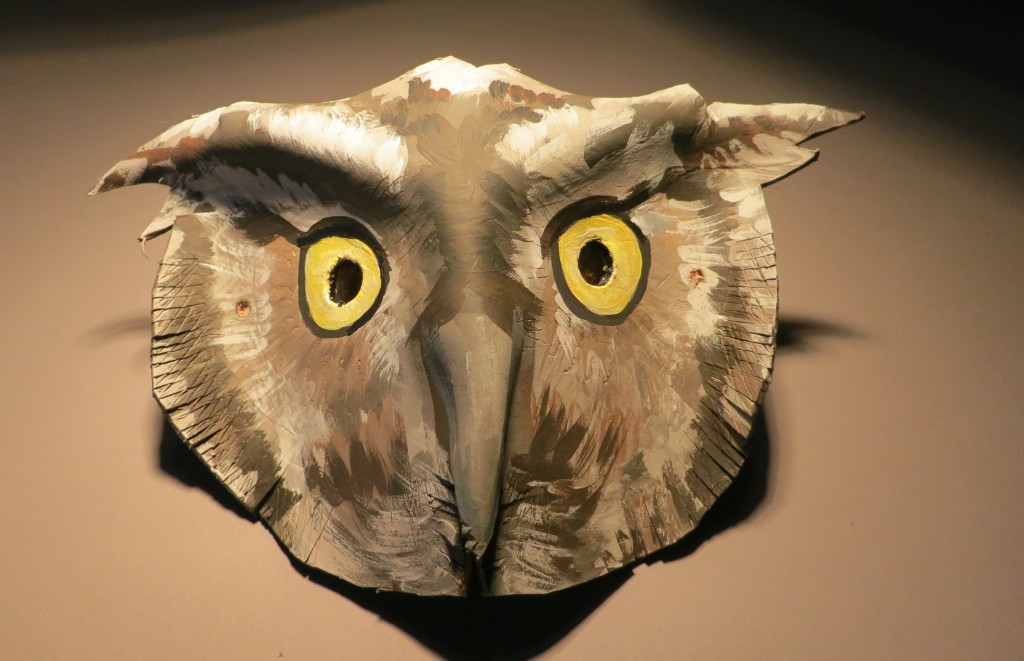 I started making this mask recently, during a spate of visual art creativity. I'm finishing up a novel, which involves a lot of fine tuning and orchestrating helpful volunteers to find errors. It doesn't involve as much creativity, and so I often find when I'm between novels that the creativity spills out into the visual art.
I used to make a lot of masks in college, but then I got an infection in my eye and could no longer wear contact lenses.  Glasses + Mask = disappointment. Recently I had Lasik, so now I can wear masks again.  Being able to wear masks makes me want to make them again.
I had this idea after something that was going around on FB or pinterest a couple of years ago. Someone made some really excellent owl masks, and I was inspired.  I have a plaster mold of my face (positive, I made it from the negative, which I made for a project about ten years ago) and I used that as a model to figure out where the eyes went.  So, the eyes match my face perfectly. Too perfectly, unfortunately, as they actually touch my eyes. Owls have concave faces, so the eyes are the lowest part, unlike people.
This is made of vegetable cured leather, which bends to great affect if you use elbow grease and plenty of water. I have leatherworking tools, but I"m not very experienced, so this involved a lot of trial and error and re-doing practically from scratch every time I messed up. Once I was happy with the general shape, I painted it using a photograph as a model.  Then I painted the eyes yellow, and when the yellow dried, I used interference gold paint so they shimmer. I punched holes so the recipient ( a great writer named Keyan Bowes, who likes owls, and doesn't know she's getting this as a surprise Halloween gift) can wear it if she likes.