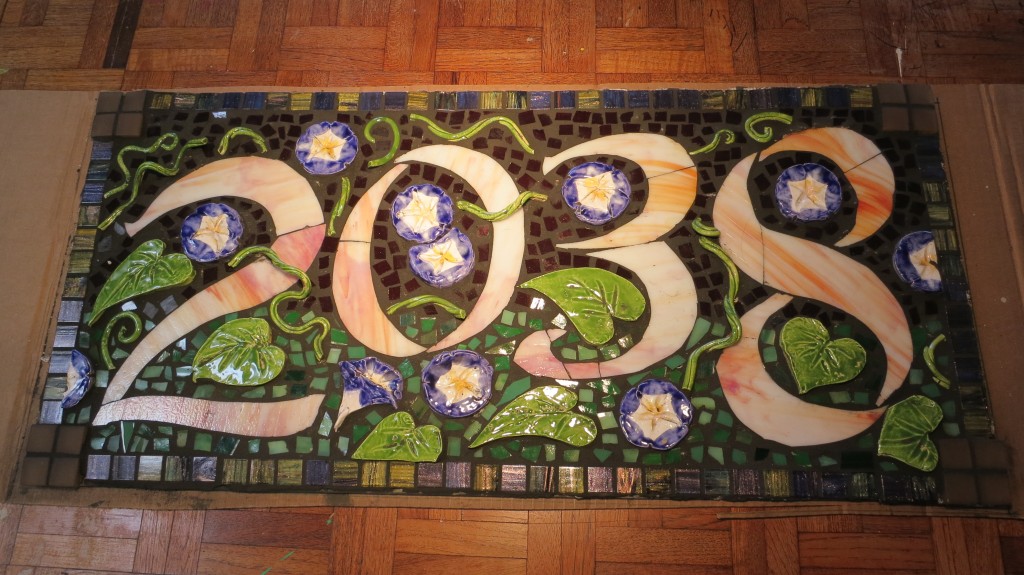 This is as project I did this summer as a gift for a couple of people I like very much. I used the glass tiles that they had bought for a kitchen remodel. They gave me the leftovers to use in one of my tile projects, and now I'm giving them back.
I chose the color of the numbers based on what I had that was light, and large enough that I could cut all the pieces out. I'd measured the space that this number plaque is go to the last time I visited, and I made the numbers large, so they could be seen, but varying sizes, because I think it's more aesthetically pleasing. I looked up numbers in my calligraphy book for a style I thought looked good. I sketched out the numbers on a piece of paper, and as I cut the pieces, I laid them out.
After I cut out the numbers, I started to design the morning glory tiles.  One of the people I made this for likes morning glories.  I pounded out some slabs and cut and sculpted the flowers and leaves. for the vines, I tried several different extruder dies. I wanted the vines to crawl over and around the numbers, like morning glory vines do.
The person I made this for has morning glories which are are pink and purple, but that clashes with the pale orange/white artglass of the numbers, so I decided to use blue and white for these flowers.  I live in a dry climate, so it only took a few days for the clay to dry.  (Harder part was setting aside time to fire them.) Glazing takes a lot longer, as these low-fired glazes need three coats. Also, I don't use the glazes that often, so they were dry and needed to be reconstituted. I crossed my fingers that the glazes would turn out okay.  Some crawling on the green, but I decided that was acceptable.
Once the tiles were done. I chose a dark reddish-brown glass and started cutting pieces for the background.  I thought I had enough, but  at the last moment, I decided to use the green pieces, which I'd had cut out for an earlier project. Glad I did, else I would have run out.
If I do another of these projects, I might have to use dark glass for the numbers, which woudl entail using a light background, and a light grout. I do prefer the black grout. I love the way it makes the colors stand out.