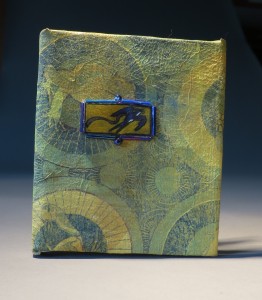 I tend to work on several pieces at once, several shrines, several cups, or several books. With the book covers, I like to do three at the same time. That's about as many as I can do and still have plenty of room for the covers and all the work-in-progress detrius on my studio table.
This one started out as my favorite, then became my least favorite, then went close into favorite land again. I wanted something that was blue and orange or blue and yellow. I had this cocktail napkin I'd saved, with the animals in the circular pattern on it. Printed cocktail napkins are great for collage, because they're so thin they're translucent. So I pasted it onto the background cloth and then did a wash of yellow on it.
Suddenly I didn't like it anymore.  I didn't like how pale the yellow was, and the design of the animals wasn't interesting enough to carry the whole thing. I layered on some more yellow, and decided I'd rescue it with the token that I sewed on there. I like my little books to have something tactile as a focus object.
I rooted through my stuff, and found the swallow shrinky-dink I made years ago. The colors suited, so I glued it on. Now I was liking this book more and more. Then I sewed on the iridescent blue beads, and they really made the image pop.
The swallow is holding a ribbon with an inscription written on it, but it was so long ago that I wrote it, and the script so tiny, that I can't tell what it says.