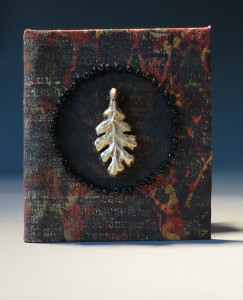 I started this with a base of some autumnal-print calico. I love autumn. I love leaves, the colors of autumn, cool weather, everything. (It's kind of ironic that I live in a city where we don't have autumn.) I had a plastic stencil I bought at a wonderful craft boutique while on a trip last year, and I'd been wanting to use it. The stencil is of bare branches.
My idea was to lay the stencil down and paint over it with something transparent. Ink perhaps. You can see the dark ink, and I can't say that the branches aren't recognizable, but the background pattern is so busy that it doesn't have the stark lines I wanted. I set it aside for a while, working on the other books.
When I got out the rubber stamps, acrylic, and interference paint for the other books, I decided on a whim to print over this book cover with gold gothic script. It looked a little better, but still wasn't that great. The gold wasn't a solid, opaque gold as I'd hoped for. I set it aside in disgust.
Then when I got out the circles for the bird book cover I decided to put a circle on this. I used black  again, to match what I'd used in the background. Now things were looking up. I had a circle, which was a focal point. All it needed was something to draw the eye into the center.
Gold +Autumnal = gold leaf. The leaf is made of porcelain. I made it to replace an antler leaf pendant that I used to wear all the time. I made it using sculpey to make  a positive, plaster to make a negative of that, then porcelain, which I shaped and carved smooth. I went through a lot of effort to make a number of these, but never ended up wearing them, as they had a porous, unpleasant texture, like cement. So I took one of these porcelain pendants and gold-leafed it. Then I mixed some brown and black acrylic to bring out detail.
I had these black beads to make a necklace from some other porcelain pendants I'd made, plenty to go all the way around the circle. When you sew on with needle and thread, it ends up holding very well, because I sew before the cloth is glued to the back boards. I used to use mat board for the backboards, but I've started using chip board, which comes free when you buy stamps on line (I have a pretty serious letter-writing habit.). Not sure how well it will hold up, but the thickness is more proportional to these small books.