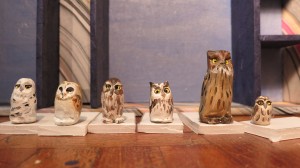 I'm still working on the cover for MULBERRY WANDS, and it's getting closer to the time when I really need it, because I've gotten my first copyeditor looking at the manuscript, and pretty soon I'm going to have to have it in a book form, which means I'm going to need a cover.
As you saw earlier, I made a new shadowbox, like I did for ALTERNATE SUSAN. Now I just need things to fill it with. I had a lot of different ideas. A mulberry-wood wand was the obvious choice, which is why I have a horizontal hole between where the title is going to go and where my name is going to go. I have three holes on the top, which should be filled with something.
I made these owls out of paper clay and then painted them. I had to paint them more than once to get them right. I kept messing them up, because it was too hard to hold them and paint them without messing up the paint. I wanted to glue them onto dowels, but I couldn't find any dowels, so I used these scraps of foam-core which I'd had left over from the making of the shadowbox. Up close, they look pretty messy, so I'm still not sure if I"m going to use them or not.
I also have to do the lettering for the title and my name. I had a common complaint about the cover of ALTERNATE SUSAN that it was hard to see my name clearly. I adjusted it several times, but still, as cool as it looks, I think I agree that it's hard to read. This time I'm going to photograph it with white paper pinned on to the board and photoshop the letting on top of it, like I did with ALTERNATE SUSAN, but with both.
Other options for things that could go in the top crevices are a silver-painted aloe seedpod and a gold painted pomegranate (both from the story) or a mouse-like skull (sort of related to the story). I had been planning on making a mouse and/or bird skull anyway, out of clay, to utilize some amazing low-fire porcelain that my friend gave me.
I want the feeling, once again, of a witches' tacklebox. The owls figure predominantly in the story, and I like them for that, but I wish they were more scary and less twee. I may end up cannibalizing the Owl and Bone shrine for some pieces to use in this. That shrine was inspired by the book, so it's only fitting it should lend a hand. And by "hand" I mean "skull and feather."