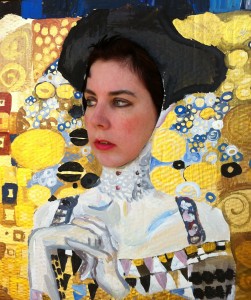 A lot of people want to be Adele Bloch-Bauer II, but very few actually do anything about it.
Despite it being so hot that I don't want to go outside at all, I wanted to have my wall back even more, so I decided that this was the weekend to finish this project. Or, at least, to work on it.
First I went to my favorite costume shop and asked what I could use to make my face white. I didn't think I wanted pure clown make-up, mostly because I didn't really want four days of terrible acne.  Instead, they sold me a compact of white face powder, the sort a goth chick daubs on her solemn nose before she hits the club. I shoudl have opted for the clown make-up. Even though my ancestors were (to paraphrase Conan O'Brian) "genetically engineered to live in a bog" I do live in the desert, and daily applications of sunscreen still can't preserve an Austrian noblewoman's alabsater/fishbelly pallor.  This is me with as much goth powder as I could get on my skin. I used some Mary Kay lipstick on both my lips and dotted on my cheeks for that spotted color look. I also used black eyeliner around my eyes, and black eyeshadow under my eyes and on my brows to make them look thicker and longer.
This was done this morning, and after I looked at them, I realized I looked far too pink, and it would take more photoshopping than I wanted to make me look like Adele.  So I went back to the costume shop, only to find that they were closed. 🙁
So here was my new plan: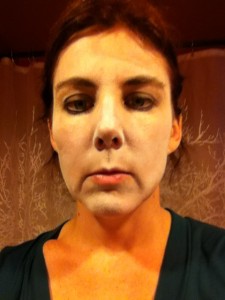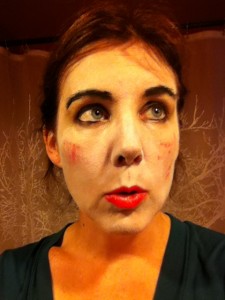 My kids are rabid homestuck fans, and they had some metallic silver make-up. So I washed my face and tried again, this time using anti-chafe as a base, followed by spf 110 sunscreen (hey, it's always leaving a white residue on my shirts, so that should count for something, right?) Then some metallic silver face paint, and THEN the goth compact powder. I re-applied the eyeliner, added some eyeliner to my brows to highlight them, and then re-applied lipstick, this time a combination of bright red and coral. Like in the painting, I made one cheek different than the other. The right side is me doing the Adele Bauer-Bloch pucker. I gotta say, I dig this smokey-kohl eye look. I might do that more often.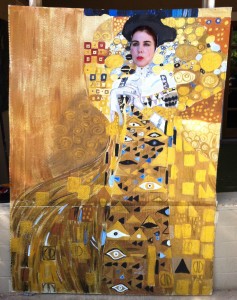 So here's me again, photo taken this evening. I didn't like leaving the painting out facing south all day, as the sun will bleach things in no time, but I had to nail it to the frame of our porch, and even that wasn't  secure. By this evening, I already had to tape it to get it flat.  By a happy coincidence, the hole is about the same height as my own face, so I didn't have to stand on a chair.  The next step is to look through all the photos and find the best one, then photoshop it. I look a little angrier than her, I think mostly because I was squinting.
I chose one of the smaller images to photoshop. It's not going to be as high of a resolution as the other ones like the one above, that mostly fill the frame, but I have a more neutral expression. I'm not the world's best person at GIMP, so this could probably have been done better. Maybe I'll work on it more. I had problems making my face whiter. It seemed like it would be an easy fix, but brightness lost all the detail, and desaturate lost the red on my cheeks. In the end, I just copied my face hue and then "painted' it over Adelle's arms and shoulders so that her skin tone matched mine better. If I had known what a paint it would be, I might have made it more pink to begin with…or bought the clown make-up!
Not saying I won't tinker with it some more, but for now, it feels done enough. By the way…does anyone want a 5'X4′ cardboard non-archival painting with a hole cut for the face? Sorry, local pick-up only.
There are two of these now. Guess it qualifies as a series.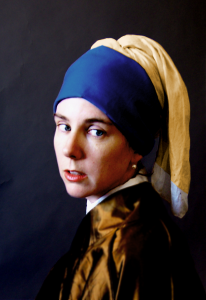 Next project…FLAMING JUNE!  Anyone know a place in the Phoenix area that can replicate a Grecian balustrade overlooking a tranquil sea?