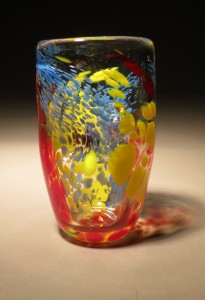 I saw some lovely, delicate glasses in the studio that someone had made for a project. They tapered in at the top, and had small divots on the side to make it easier to grab. I had an inspiration of making something just like that, only with  three whisper-thin patches of frit around it, in the primary colors, so that it had a delicate rainbow hue.
Yeah.
So, it has divots. That was cool. We used a torch to melt spots on opposite sides of the glass, and used a metal ball joint to indent it. Also, it has frit. Not the delicate rainbow I was hoping for. I used too large of a frit, and the yellow is more opaque than I wanted. Also, it doesn't taper in at the top. Sometimes if it looks "good enough" I stop. I'd rather have something that's good but not exact than something that's ruined.
So, it's a good juice glass. Quirky, functional. If you didn't know what I was going for, it would look even better.