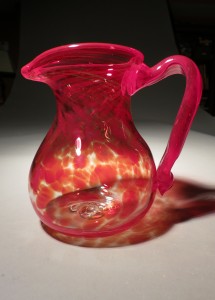 This is the last of my glass-class pieces from this winter. I've been parceling them out so there's a variety. I don't know if I'll take glass class again next winter. It's expensive, but not completely affordable. But I was so busy this winter that the time was definitely an issue.
When I described to our instructor what I wanted to make, he got very excited and said "this is going to be the best thing you ever made". I think he was right. It is probably the most beautiful thing I've made in hotshop. we used a Roman bottle technique to do the base, and having an expert helper to color the bit I used for the handle really helped. We practiced making handles right before this so I wasn't going into it cold.
I haven't used this as a pitcher yet. So far it's just been sitting on my shelf. I think it will pour okay. I've made pitchers in ceramic, and it looks like a functional design.