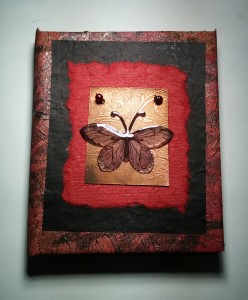 This book must have gotten lost in my postings, because I actually completed it earlier this summer. I started with a piece of calico with an autumnal print, and block printed over it with leaf-motif texture plates. This was one of those where I managed to muddy it and obscure the original design, but didn't quite succeed in making it better.
Because the base was so dull, I decided to cover most of it on the cover, using these two layers of handmade paper. The etched copper plate was one I'd done years ago while testing something for an earlier draft of the VanderMeer's book THE STEAMPUNK HANDBOOK which is coming out this ear. It got me into playing with etching, which led me to use PCB (I think that's the name of it) and etching some copper.
After I sewed it on, holding it in place with these two fake-coral beads, I sacrificed a Tim Holz epoxy sticker to tie it together.