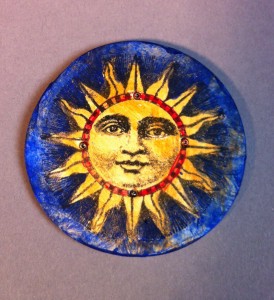 This was another tile from Laurie Mika's workshop this summer, to which I added four tiny seed beads. I'm not very proud of the sloppy paint job around the rays; I should have taken more time with the paint.
At the art store, they have seemingly dozens of different types of paints, inks, dyes, and paint-like substances, many of which are lovingly demonstrated on tiny canvases. It's easy to drool over the amazing multifaceted effects and think that you can create that too, if only you spend a gazillion dollars on the 32 different shades of paint/dye/what-have-you for sale. Sometimes the right material does make a difference. Sculpting with bad paperclay (DAS) is far, far harder than sculpting with good paperclay (Creative, for example).
But when it comes right down to it, usually the secret is just taking your time and using good technique.