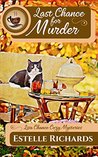 Last Chance for Murder by Estelle Richards
I haven't read cozy mysteries for a while, but this one is set in my home state of Arizona, so I thought it was worth checking out. It's about a woman who is in love with a very old house. Okay, so that's maybe not how most people would describe the story, but that's the part that resonated with me.
Lisa Chance has just been betrayed by her long-term boyfriend and her agent, a betrayal that precipitated Lisa's quitting the acting business and L.A. to return to her parents in the town she grew up in. Richards captures the small town vibe very well (I'm guessing, not having lived in a small town myself) where everyone seems to know everyone else's business and keeping up appearances is a very important matter.
Like most cozy mysteries, this one leans heavily on the setting and the secondary characters. Lisa isn't just another pretty face. She's dealing with the repercussions of betrayal and trying to embark on a new dream. She's also trying to come to terms with the fact that her parents aren't the happy couple she wanted them to be. Everyone in this story has a life outside their scene. Even the barn cat has a couple of secrets. There's also a romance aspect to it, not just with Lisa, but with other people in town as well. Like most cozy mysteries, the murders are presented merely as an interesting puzzle, and Richards doesn't dwell on the actual deaths. In fact, one of the dead men's cause of death wasn't even really mentioned, I don't think. Don't expect a detailed paragraph on exactly what the crushed skull looked like. This isn't that sort of murder mystery. If Agatha Christie is as cozy as a tweed coat, this is as cozy as a full-body microfiber snuggie. The author spends more time describing pastries and coffee than she does on the cause of death. It's a good book for those who are allergic to ick.
While it was a charming book, I'm not giving it a full five stars because it didn't go as deeply as I would have liked. If it were maybe 20% longer we would have had more time to develop a relationship between Lisa and Mo, and the cat's secret past could have been hinted at earlier so it didn't seem so random. Some of the plot points happened quickly and were told by the characters instead of being revealed gradually, which makes it easy to read and easy to understand, but not as satisfying. Also, while endemic to this sub-genre, the conceit of "I have to find out who the real murderer is to clear my name" bugs me, since I've read too many real-life police cases to have any confidence that such an undertaking would turn out so well for the would-be investigator. I also prefer a bit more gritty realism. But I suppose if my major complaints are that this was too light-hearted and fast-paced, that will tell you if this book is your cup of tea or not.